FREQUENTLY ASKED QUESTIONS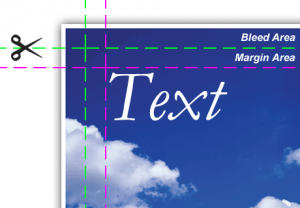 The "bleed" is the area that's trimmed off during the printing process. It gives us some room to work with when cutting your cardstock, and it allows us to account for any slight movement, design inconsistencies, or mechanical variations.
WHAT TYPE OF FILE CAN I SEND TO TAMPA TYPE/PRINT?
We recommend sending your file in a .PDF format.
You may also send the file in the following types: psd, eps, ai, tif, jpeg, or png.
We prefer that you send .PDF and .EPS files with the outlined fonts. These files are easier to handle and will likely speed up your turn-around. Remember to add crop marks and flatten your files before uploading. Please do not send Word Doc files, unless absolutely necessary.
WHAT RESOLUTION SHOULD MY FILE BE?
Low resolution files may be printed as-is, but may cause pixelation (blurriness) to your final print. We always prefer files at 300dpi minimum or higher for best print quality.
WILL MY PROJECT PRINT JUST LIKE IT SHOWS ON THE SCREEN?
Print previews are not a safe and sure measuring tool for color accuracy. Colors in the file might be affected by monitor calibration, screen resolution or lighting, just to name a few. Many Pantone colors show a marked color shift when converted to four color process. Colors should be in CMYK mode for color accuracy and a better quality output when printing full color.
WHAT COLOR MODE SHOULD MY FILES BE?
If you are using a RGB file, there is a chance that a color shift may occur and you may not be satisfied with your job. You should always start and finish your designs in CMYK color mode.
DOES TAMPA TYPE ACCEPT BORDERS ON JOBS?
Yes, but if the border is too close to the cut line, it may be cut off-center slightly. We cut through multiple sheets at a time, so be aware of your borders to avoid an unwanted mistake. We can't guarantee a perfect border and if it's off-centered, we are not responsible for a re-print.

YOUR QUESTION ISN'T ANSWERED? CONTACT US.